English Language Course for Beginners
English Language Course for Beginners
Akademija Oxford Foreign Languages School is recognized for the innovations that enrich our educational programs day by day, which enables us to meet the demands of each individual student. What is authentic about us are the courses of the English language for beginners, which are the courses in demand by a great number of students. Needless to say that it is crucial to start from the beginning to acquire a language properly.
Course of English for beginners encompasses classes adapted to everyone. It is perfect for those who have never had the chance to learn this language from the very beginning, through appropriate teaching methods.
---
As the number one world recognized language, English has always been the most necessary language in any field of work, and in any country you might wish to visit. It is because English has been, and it always will be the language that you can use, if you cannot speak the native language, to communicate and to get on in any foreign country. So, regardless of all the world languages and the value of speaking them, if you do not know any other language, English shall be quite enough for you to have an easier stay in any country.
In Akademija Oxford School you have many varieties of English language courses for beginners. One of the possibilities is individual course, which includes a teacher working with one student only. This course includes the type of curriculum that is adapted to each individual student, with the classes realized at least two times a week (as double classes), but if necessary, the classes can be more often. This is one of the most appropriate forms of language classes of today, and it is highly in demand, since it is created for each individual student.
Apart from this, our wide range of offers has half-individual and group classes as well, for beginners who wish to acquire English. Half-individual courses include two to three students, whereas the group course requires five to eight students, in order for the group to acquire the necessary curriculum, adapted to students of different ages.
We believe we have shared at least a portion of what we have to offer. If still in doubt, contact the coordinators of one of our centers, since they are always prepared to meet your demands, and find the module that you need to improve your knowledge more easily, and as soon as possible. We are expecting you!!!
The textbooks and materials used in this course:
The textbook used is: New English File Elementary, followed by numerous additional materials, such as audio and video recordings, additional texts, tests and exercises.
---
Price List for English Language Courses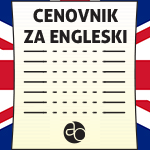 You can see the complete price list for English language courses on our website. The prices may vary for different cities.