Swedish language course
Swedish language course
About the Swedish Language
Swedish is one of the Germanic languages, i.e. of the North Germanic, and it originates from the Old Norse Language. Swedish is the official language in Sweden, one of the two official languages in Finland, and one of the official languages of the EU. Up until World War II, Swedish was used in Lithuania and Latvia. This is a language with around 8 million speakers, out of which 300,000 is in Finland. There is a small proportion of Swedish language speakers in the USA and Canada, mainly children of immigrants. Swedish is similar to Danish and Norwegian, and speakers of these three languages can easily communicate. Some research results indicate that almost 92% of the Swedish claim to understand Norwegian pretty well.
---
Swedish language course
Course of Swedish in Akademija Oxford Foreign Languages School is intended for students who wish to learn this language in order to live and work, or study in Sweden, as well as for those who simply like to learn new languages.
Course of Swedish is based on conversation, numerous interactive methods which enable the students to acquire grammar through conversation.
---
Swedish language courses Price-List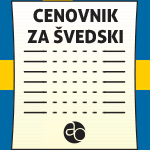 A complete price-list for Swedish language courses is available on our website. The prices depend on location.
---
Swedex – International Swedish Language Examination

Swedex is internationally recognized Swedish language examination. Akademija Oxford has become the only licensed Swedex test center in Serbia. The students can find everything here, in Akademija Oxford centers – the course of Swedish, and the chance to receive the certificate recognized in the entire Europe. Having prepared and passed Swedex exam, our students will find it much easier to go abroad and find employment in Sweden.
---
General Group Swedish language course

General group course of Swedish language is most certainly one of our most recognized and most popular courses when it comes to foreign language learning. Thorough acquisition of grammar and vocabulary is a synonym of a well-organized course, which is why the greatest number of our students chose this particular system. Course duration per level is four months, and the classes are organized in smaller groups. You simply need to apply on time, and become part of a group that is here to reach certain goals and be successful. We are expecting you!!!
---
Individual or Half-Individual Swedish language course

Individual and half-individual courses of Swedish are designed as professional and contemporary courses, since the priority of modern age man is to use the most of the little free time that they have. Akademija Oxford has organized this type of course so that you can take the course individually or with another person, and to have classes completely adapted to you and your needs and pace. This is why you only need to call us, and schedule your first class. The rest is up to us!!!
---
Online Swedish language course

Online course of Swedish in Akademija Oxford, our great treasure chest of knowledge, is intended for those of you who are not able to attend regular classes in any of our centers. This is one of the reasons why we have enabled a system of language learning that is completely adapted to you, and definitely the most affordable. You are only required to have a computer and internet connection at home. Professionalism and high-quality education course are a guarantee, so we expect you soon to join the students from the whole world!!!
---
Specialized (Professional) Swedish language course

In Akademija Oxford this is a course for those who wish to acquire knowledge and expand their vocabulary in a certain field (such as economics, law, medicine, marketing, IT, media, human resources, tourism, etc.)
---
Conversational Swedish language course

Conversational course of Swedish is renowned among the language learners as a specific type of education, which enables you to revise what you have learned and improve your speaking skills of a language. Teachers of Swedish in Akademija Oxford work on adjusting the curriculums to the groups on a daily basis, and on improving their own knowledge and skills. Courses are quite interesting, which is why the number of our students keeps rising by day. Apply and join us!!!
---
Intensive Swedish language course

Intensive course of Swedish is a famous and popular course in Akademija Oxford Foreign Languages School. As modern life moves at a faster pace, and the possibilities we have are numerous, you will often need a quick and professional education in order to keep up with your goals. That is why intensive course of Swedish is exactly what you need, since it is designed for a smaller group work on a daily basis. We are certain that this is the course you need, so we invite you to enroll as soon as possible, for we have no competition!!!
---
Swedish language course for Children

Course of Swedish for Children is organized as more parents need to prepare their children for life and further education in another country. Courses expand for nine months, i.e. throughout the entire school year, with regular school breaks included. The course is adapted for children of school age, and for smaller group work, so that each child could get enough attention. Enroll your children on time, so that they can find further education abroad much easier!!!
---
Business Swedish language course

Business course of Swedish in Akademija Oxford Foreign Languages School is intended for various occupations, as a special type of education with quite specific methods. It demands a certain level of knowledge of Swedish, so that you could easily acquire the new terminology, and improve what you already know. The classes are organized in smaller groups, twice a week, and it is necessary for you to apply in one of our centers and reserve a place for you in a group focused exactly on your area of expertise. Hurry up and apply, because knowledge does not wait!!!
---
The Textbooks and materials used:
The textbooks used are: Pa svenska!; Mal 1; and Rivstart, followed by numerous additional materials, such as audio and video recordings, additional texts, tests and exercises.
---
In addition to all the standard varieties of the Swedish language courses available in Akademija Oxford Foreign Languages School, we offer you a chance to create a course that suits you perfectly, according to your own needs, affinities, free time, goals, etc. Coordinators and teachers of Akademija Oxford are at your disposal to help you design a course of your own, that will completely satisfy your needs
---
Apart from the Swedish language courses, Akademija Oxford offers you the services of court interpreting and translating from Serbian into Swedish, and from Swedish into Serbian. You can come to us with any documents – personal, business or legal – and our court interpreters and translators will provide you with a desired translation as soon as possible, either in hardcopy or via electronic mail.