Slovenian language course
Slovenian language course
Slovenian is one of the South Slavic languages. It has around two and a half million speakers, the majority of which are in Slovenia. Also, a significant number of Slovenian language speakers live in Italy and Austria. Slovenian is one of the working languages of the EU. A research conducted by some linguists showed that this language has 46 different dialects.
Slovenian language course
Course of Slovenian Language in Akademija Oxford Foreign Languages School is intended for the students who learn languages as a hobby, as well as for those who plan to live and work in Slovenia.
The course is based on conversation – numerous interactive methods which enable the student to acquire grammar through conversation.
Course of Slovenian can be group or individual, online or intensive.
---
Slovenian language courses Price-List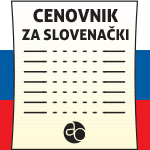 A complete price-list of the Slovenian language courses is available on our website. The prices depend on location.
---
General Group Slovenian language course

Course of Slovenian in Akademija Oxford Foreign Languages School is a necessity for anyone with a desire to continue their career in Slovenia, and who therefore need to acquire all the rules of grammar and spelling gradually and thoroughly, so as to be confident in their knowledge.The course includes 3-12 students, and it expands for 5 months.
---
Individual Slovenian language course

The course is designed for individual students. The course dynamics and duration depend on the student's needs, progress and demands.Individual course of Slovenian is intended for each individual who, for some reason, cannot attend the regular classes in groups, with fixed timetables.
---
Online Slovenian language course

Online course of Slovenian is intended for all of our students in keeping with the new age – they have a computer and internet connection, but very little free time, which they need to use wisely and invest it in knowledge. The course is intended for the students who cannot adapt to the regularly scheduled group classes. They can schedule the classes according to their own free time, and decide on the course dynamics.
---
Intensive Slovenian language course

Intensive course of Slovenian expands for two months per level, i.e. 64 classes – for group lessons. You are to attend two classes four times a week, and having completed each level, you take the exam which qualifies you for the certificate. The course is designed for individuals or smaller groups who need an intensive course of Slovenian, i.e. they can attend several classes every day.
---
Conversational Slovenian language course

Conversational course of Slovenian is intended for those who need to improve their conversational skills of Slovenian in their area of expertise. Whether it is ecology, biology, chemistry, electrical engineering, medicine, management, marketing, business communication, or any other field, we have professional teachers to help you remove any language barrier you might have at work.
---
Business Slovenian language course

Business course of Slovenian is necessary for any professional who has already acquired Slovenian, but who needs to expand their knowledge for their area of expertise, so as to reach their professional goal.These are the reasons we have decided to help our students and fulfill their wishes when it comes to their career and learning Slovenian.
---
Specialized Slovenian language course

Special course of Slovenian is an offer that no one with a desire to truly learn Slovenian can refuse. You simply need strong will to study, improve your skills and be aware of your goal. What this course has provided our students with is the possibility to propose what they think is suitable for them when it comes to Slovenian Language Learning, if they find that none of the courses in our offer is what they need.
---
Children's Slovenian language course

Course of Slovenian for children is necessary for any child whose further education is to be continued in some of the countries of the Slovenian speaking area. Course of Slovenian for children is divided into levels, and each expands for ten months, i.e. one school year. With each passing year they will have more freedom to use the language and acquire it further, as they do with many interesting activities.
---
The textbooks and materials used in classes:
The textbooks used are: Colloquial Slovene 2nd edition; Slovenska beseda v zivo, followed by numerous additional materials, such as audio and video recordings, as well as additional texts, tests and exercises.
---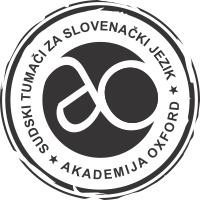 Apart from the Slovenian language courses, Akademija Oxford offers you the services of court interpreting and translating from Serbian into Slovenian, and from Slovenian into Serbian. You can come to us with any documents – personal, business or legal – and our court interpreters and translators will provide you with a desired translation as soon as possible, either in hardcopy or via electronic mail.