Latin language course
Latin language course
About the Latin Language
Latin language is a dead Indo-European language of the Centum language group. It was used by the Latins, Italic tribe that lived in Latium, the province where Rome was situated. Today this language is used by a very small number of people.
Course of Latin
Course of Latin in Akademija Oxford Foreign Languages School is intended for those who need to acquire Latin for their work or studies, or who simply wish to learn new languages.
The course is based on conversation, numerous interactive methods which enable the students to acquire grammar through conversation.
General Group Latin language course
In Akademija Oxford this is a course organized in groups of 3 to 12 students, including two classes realized two times a week, and it expands for 4 months (levels A1 to B2), and 5 months (C1 and C2). The main purpose of the general course is to enable the students to use the language in various formal and informal situations, through the most contemporary methods, and dynamic and interactive classes.
---
Intensive Latin language course
This is a course designed for those who need an intensive course of Latin, which means they can attend several classes a day, as necessary.
Online Latin language course
Online course of Latin is designed for those who cannot adapt to the regular classes in set timetables. They have the benefit of scheduling their own classes, according to their own free time, and they can decide on the course dynamics.
Individual or Half-Individual Course of Latin
Individual course of Latin in Akademija Oxford Foreign Languages School is intended for the students (regardless of their age) who are unable to attend regular group classes, or who simply find it easier to learn individually, or with one other student. The benefits of individual and half-individual course of Latin are that the students can decide on the course duration, based on their background knowledge and their needs, as well as the fact that the teacher is completely dedicated to one student throughout the entire class.
---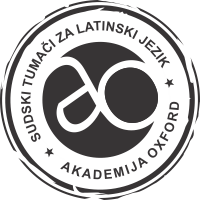 Apart from the Latin language courses, Akademija Oxford offers you the services of court interpreting and translating from Serbian into Latin, and from Latin into Serbian. You can come to us with any documents – personal, business or legal – and our court interpreters and translators will provide you with a desired translation as soon as possible, either in hardcopy or via electronic mail.