Turkish language course
Turkish language course
Turkish is a Turkic language, the official language of Turkey, and one of the official in Cyprus. It has speakers among the immigrants in Greece, Macedonia and Bulgaria, as well as in Western European countries such as Germany, Austria, Switzerland, etc. Turkish has over 72 million speakers in Turkey, and several million among the immigrants.
Turkish language course
Course of Turkish in Akademija Oxford Foreign Languages School is intended for the students who like to learn foreign languages, as well as for those who plan to live and work in Turkey.
The course is based on conversation, numerous interactive methods that enable the students to acquire grammar through conversation.
Course of Turkish can be group or individual, online or intensive.
---
Turkish language courses Price-List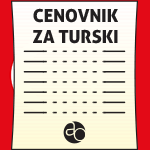 A complete price-list for Turkish language courses is available on our website. The prices depend on location.
---
General Group Turkish language course

Is a course for 3-12 students and it expands for up to 5 months. Group course of Turkish language in Akademija Oxford Foreign Languages School usually expands for four months per level – elementary, intermediate and advanced – including two classes twice a week, which is the overall of 64 classes until the completion of one level.
---
Individual Turkish language course

It is a course designed for individual students. The course duration and dynamics are organized according to the student's needs, progress and specific demands. Individual classes offer you the opportunity to acquire profound knowledge, thoroughly, which you can later on use in all formal and informal situations, and further professional development.
---
Online Turkish language course

It is a course designed for the students who are unable to attend regular classes within scheduled periods. They can schedule their own classes as suitable for them, and decide on the course dynamics. Online classes are accepted worldwide and in Serbia as well. The majority of students who demand this course are from different cities or states, as well as those who simply cannot attend the course in any other way.
---
Intensive Turkish language course

It is a course for those who wish to take an intensive language course, meaning that they can attend several classes every day. This is a course designed for language acquisition of a faster pace, but equally thorough, with the necessary help of our professional and highly qualified teachers.
---
Conversational Turkish language course

This is a specially designed course for the students who are already proficient in Turkish, when it comes to the grammar and vocabulary basics. Still, the lack of speaking practice has deteriorated their conversation skills, and this is the only course that can help them advance professionally.
---
Business Turkish language course

It is a course designed for our students as a special type of education which can enable them to improve their conversational skills in their fields of work, for informal and formal situations. As this is the language used by the minorities in 35 countries, this course can certainly be beneficial for your career.
---
Specialized Turkish language course

Special course of Turkish is a unique offer among language courses for each individual. You can learn according to your own wishes, and if you choose it you will certainly acquire the basics that you need, and that you can continue upgrading on your own, or at one of our next, more advanced courses.
---
Turkish language courses for Children

Courses of Turkish for children are designed for each child who loves friendly environment, with songs and games, and the primary goal of which is language acquisition. This way we are keeping up with the world trends, and we have improved our work, for which the final results are astonishing and noticeable after each year of language learning.
---
The Textbooks and materials used:
The textbooks used are: Yabanci dilim Türkçe, Yeni Hitit, Colloquial Turkish, followed by numerous additional materials, such as audio and video recordings, additional texts, tests and exercises.
---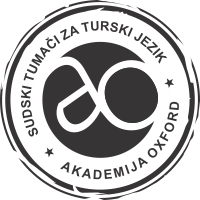 Apart from the Turkish language courses, Akademija Oxford offers you the services of court interpreting and translating from Serbian into Turkish, and from Turkish into Serbian. You can come to us with any documents – personal, business or legal – and our court interpreters and translators will provide you with a desired translation as soon as possible, either in hardcopy or via electronic mail.