Bulgarian language course
Bulgarian language course
About the Bulgarian Language
Bulgarian is one of the South Slavic languages, and the official language of Bulgaria. The alphabet used is Bulgarian Cyrillic, which originates from the old Slavic script, and it includes 30 letters. Bulgarian was one of the first written Slavic languages – the first time it appeared in writing was in the 9th century, in Glagolitic alphabet.
Bulgarian has around 9 million native speakers, the majority of which is settled in Bulgaria, and with the minorities in Greece, Romania, Turkey, Serbia and Ukraine. The language quite similar to Bulgarian is Macedonian, which is why Bulgarian people consider it just a variation of Bulgarian and not a separate language.
Course of Bulgarian Language
Course of Bulgarian in Akademija Oxford Foreign Languages School is intended for the students who need to learn this language in order to live and work or study in Bulgaria, or for those who simply wish to learn a new language.
The course of Bulgarian is based on conversational skills and on numerous interactive methods which enable the students to acquire grammar through conversation.
---
Price-List of the Bulgarian language courses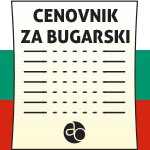 You can find a comprehensive price-list for the Bulgarian language courses available on our website. The course fees may vary according to the city.
---
General Group Bulgarian language course

In Akademija Oxford School this course is realized in groups of 3-12 students, and it includes 2 classes 2 times a week for 4 months (levels A1-B2), i.e. for 5 months for C1 and C2. The general goal of this course is to use the most contemporary teaching methods, dynamic and interactive lessons to train students to use the language in formal and informal situations.
---
Individual or Half-Individual Bulgarian language course

In Akademija Oxford School this is course intended for those who do not find group classes suitable, either because they cannot adapt to the set timetable or they simply find it easier to study alone or with another person only.
---
Online Bulgarian language course

This is a course intended for the students who cannot attend regular classes in the set timetable. They have the liberty of scheduling classes as they see fit, as well as to decide on the course dynamics.
---
Intensive Bulgarian language course

Intensive course of Bulgarian is intended for any future students who need to complete as many levels of Bulgarian in the shortest time period possible, but to do it thoroughly and to properly acquire grammar and vocabulary which they can use on a daily basis.
---
Conversational Bulgarian language course

Conversational course of Bulgarian is intended for each student that has not acquired the conversational skills of Bulgarian, since he or she is not in the Bulgarian speaking environment, but who have learnt the language before. Knowledge of grammar and vocabulary is a solid base to improve the conversational skills and the use of this language.
---
Specialized Bulgarian language course

Specialized course of Bulgarian is a special offer intended for anyone interested in learning Bulgarian.
---
Business Bulgarian language course

Business course of Bulgarian is one of the highly specialized courses, focused on a field necessary for that student, i.e. for their profession.
---
Bulgarian language course for Children

Course of Bulgarian for children is a course intended for our youngest learners whose future education is in the Bulgarian speaking area. If this is your case, your child will benefit so much from a course like this, and steadily advance towards success.
---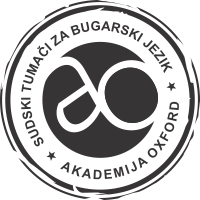 In addition to Bulgarian language courses, Akademija Oxford offers you the services of court interpreter and translator for Bulgarian, for the translations from Serbian into Bulgarian and from Bulgarian into Serbian of any type of documents – personal, legal or business. Our court interpreters and translators are at your disposal, ready to have your documents translated and delivered to you in hardcopy or via e-mail.