Chinese language course
Chinese language course
About the Chinese Language
Chinese is part of the Sino-Tibetan language family. It is a tonal language, since the words change meanings as their tonality changes. Standard Chinese language, also known as Mandarin Chinese is the official language in China, Singapore and Taiwan. Mandarin Chinese is estimated to have around 900 million speakers.
Chinese language course
Course of Chinese in Akademija Oxford is intended for those who learn languages as a hobby, or who plan to live and work in the Chinese speaking area.
The course is based on conversation, numerous interactive methods which enable the students to acquire grammar through conversation.
Chinese language course can be group or individual, online or intensive.
---
---
Chinese language courses Price-List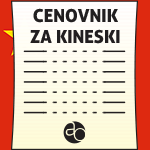 A complete price-list for Chinese language courses is available on our website. The prices depend on location.
---
General Group Chinese language course

This course includes 3-12 students and it expands for 5 months. The curriculum is designed for you to acquire the language gradually and thoroughly, through regular class attendance and our contemporary approach to language teaching.
---
Individual Chinese language course

It is a course designed for individual students. Course duration and dynamics are adapted to the student's needs, progress and demands. Apart from the benefit of scheduling their own class periods, the students can also be sure that the classes they have are completely focused on them as individuals.
---
Online Chinese language course

It is a course designed for students who are unable to attend regular classes in fixed timetables. They can schedule their own class periods and decide on the course dynamics. In order to improve our offer and keep up with the cutting edge technology, we have decided to incorporate this type of course. Online course is ideal if you need to acquire Chinese as soon as possible, and it is considered as one of the more difficult languages in our region.
---
Intensive Chinese language course

It is a course for individuals or smaller groups with a desire of attending an intensive course, which means that they can even have several classes every day. Generally, the course expands for two months per level, and it includes 64 classes, in a group. The students attend two classes four times a week, and having completed one level they take the exam, which qualifies them for the certificate.
---
Conversational Chinese language course

Conversational course of Chinese is a desire of any student with profound knowledge of Chinese, but who haven't had the chance to use the language until now. Through our conversational course you can acquire the terminology you need and practice it through conversation with the teacher, specialized in your area of expertise, whether it is electrical engineering, medicine, management, marketing, business communication, or any other field we haven't listed here.
---
Business Chinese language course

Business course if Chinese is a necessity of any professional who has already acquired Chinese, but with not enough emphasis on conversational skills, which can lead to a language barrier in the worst possible moments. Our business course of Chinese, individual or group, enables you to acquire the terminology you need for your occupation.
---
Specialized Chinese language course

Special course of Chinese is one of the most professionally organized courses intended for each individual who cannot adapt to regular courses, due to many work obligations; this is why this course is realized as individual, so that the topic and the teaching methods could be suitable for you as an individual student. You can attend the classes as often as you need in order to feel confident in your knowledge and skills, if you do not wish a course divided into regular levels of proficiency and if your primary goal is to learn and not to receive a certificate.
---
Chinese language course for Children

Course of Chinese for children is necessary for each child whose parents plan to continue with their career in some of the cities of the Chinese speaking area. This way, you can help your little one remove any language barrier on time, which might cause problems if the child has no background knowledge of this language.
---
The Textbooks and materials used:
The textbooks used are: Contemporary Chinese Chinese Made Easy, Communicate in Chinese, Elementary Chinese, followed by numerous additional materials, such as audio and video recordings, additional texts, tests and exercises.
---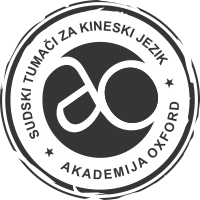 Apart from the Chinese language courses, Akademija Oxford offers you the services of court interpreting and translating from Serbian into Chinese, and from Chinese into Serbian. You can come to us with any documents – personal, business or legal – and our court interpreters and translators will provide you with a desired translation as soon as possible, either in hardcopy or via electronic mail.