Dutch language course
Dutch language course
About the Dutch Language
Dutch is one of the Indo European languages. It is the official language of the Netherlands, and one of the three official languages of Belgium. There are over 22 million people who speak Dutch as their mother tongue, and around 5 million that speak it as their second language. Dutch is a widespread second language in Germany, on the North of France and in the Eastern Europe. The language in the Netherlands is called Dutch and in Belgium Flemish, but it is in fact the same language.
Standard Dutch is used for public and official purposes, such as in schools and faculties. In informal situations there are several local dialects that are used.
Dutch language course
Course of Dutch language in Akademija Oxford Foreign Languages School is intended for the students who wish to learn the language in order to live and work or study in the Netherlands, or for those who simply wish to learn new languages.
The course is based on conversation, numerous interactive methods which enable the students to acquire grammar through conversation.
---
Dutch language courses Price-List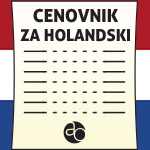 A complete price-list for Dutch language courses is available on our website. The prices depend on location.
---
General Group Dutch language course

In Akademija Oxford Foreign Languages School this is a course that involves -12 students and it expands for 5 months.
---
Individual or Half-Individual Dutch language course

In Akademija Oxford Foreign Languages school this is a course for the students who cannot adapt to group classes in regular time periods, or who simply find it easier to learn individually, or with one other student.
---
Online Dutch language course

Online course of Dutch is intended for the students who are unable to attend regular classes when they are scheduled. They can schedule their own class periods and decide on the course dynamics.
---
Specialized Professional Dutch language course

In Akademija Oxford Foreign Languages School this is a course for those who wish to acquire knowledge and expand their vocabulary in a certain field (such as economics, law, medicine, marketing, IT, media, human resources, tourism, etc.)
---
Conversational Dutch language course

This is a course in Akademija Oxford intended for students who wish to improve their communication skills for everyday formal and informal situations, as well as for their work situations.
---
Intensive Dutch language course

It is a course designed for individuals or smaller groups with a desire if intensive course of Dutch, meaning that the course can include several classes every day, as necessary.
---
Dutch language course for Children

It is a course for the children of pre-school and school age. The course is based on communication and various methods involving games and fun activities.
---
Business Dutch language course

Business course of Dutch expands for four months in a group, or it includes twenty five double classes if you wish to attend individually – for which we provide the textbooks. Still, if you simply wish to upgrade your knowledge in a certain field, the classes can be organized according to your needs. We therefore invite you to contact us now, and become one of our satisfied students.
---
The Textbooks and materials used:
The textbook used is Stap, Code Nederlands, followed by numerous additional materials, such as audio and video recordings, additional texts, tests and exercises.
---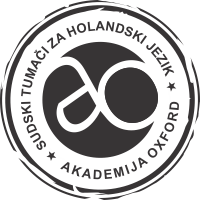 Apart from the Dutch language courses, Akademija Oxford offers you the services of court interpreting and translating from Serbian into Dutch, and from Dutch into Serbian. You can come to us with any documents – personal, business or legal – and our court interpreters and translators will provide you with a desired translation as soon as possible, either in hardcopy or via electronic mail.