Polish language course
Polish language course
About the Polish Language
Polish language is part of the West Slavic language group. It is the official language of the Republic of Poland, and it has around 39 million speakers in Poland, with another 2 million in Eastern European countries and North America. In addition to that, there are larger Polish-speaking communities in Belarus, Canada, Germany, Great Britain, etc.
---
Course of Polish Language
Course of Polish language in Akademija Oxford is intended for anyone with a desire to learn this foreign language, either as a hobby or because they have employment opportunities in Poland.
The course of Polish is based on conversation and numerous interactive methods which enable the students to acquire grammar through conversation.
The main division of Polish language courses is between group and individual, along with online and intensive.
---
Polish language courses Price-List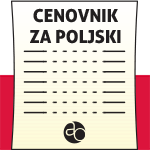 You can find the comprehensive price-list for Polish language courses available on our website. The prices may vary depending on the city.
---
General Polish language course

Polish language course in Akademija Oxford Foreign Languages School is a special type of education, perfect for you if you wish to learn Polish thoroughly and gradually, and to feel confident that upon completing the course you will be able to use it in any situation, like your mother tongue. This course includes 3-12 students, and it expands for 5 months.
---
Individual Polish language course

Individual course of Polish is intended for one student. The course dynamics and duration are adapted to the student's needs, progress and demands. If your plan is to go abroad, and you therefore need to acquire as much of the material as possible, level by level and to verify your knowledge with a valid certificate this is the right course for you.
---
Online Polish language course

Online course of Polish is one of the innovations in the world which we are gradually embracing. This is due to the fact that increasing number of students and teachers find this type of education to be the most efficient one, since it is the least time-consuming course. This is a course intended for students not able to attend regular classes, and adapt to the timetables. They can schedule classes according to their own free time, and decide on the course dynamic.
---
Intensive Polish language course

The course is intended for individual students or smaller groups who wish to attend an intensive (accelerated) course, which means they can attend several classes every day. This type of course offers you the possibility to acquire as many levels of Polish as you need due to employment opportunity in Poland. You can attend two classes four times a week, and after each completed level you are to take the exams which qualify you to receive the certificate.
---
Conversational Polish language course

Conversational course of Polish is a course adapted to any type of language improvement for this specific language, not so rare in our region. If what you need is an opportunity to practice your conversation skills, and to expand your knowledge this is the right course for you to apply. Conversational course of Polish is usually realized as individual, and it includes twenty five double classes, so as to maintain the course topic of your choice.
---
Business Polish language course

Business course of Polish is intended as a form of language improvement for further professional development and promotion. If you need a professional course, you simply need to contact us via phone, e-mail or personally at one of our addresses, and our team will make sure you are provided with the best service. Polish is a specific language, used both in Poland and in other countries when it comes to business discourse, and it is necessary if your professional development lies in the Polish speaking area.
---
Specialized Polish language course
Specialized course of Polish is a course intended for any individual student who puts education and knowledge first, with the additional benefit of scheduling the classes according to their own free time. If none of the courses we have to offer is what you really need when it comes to Polish language learning, we can offer you the possibility of including only the segments you consider acceptable.
---
Polish language course for Children

Course of Polish for children is designed for each individual child, and it promotes group work and learning, and language acquiring form the earliest age. This type of curriculum is easily adaptable to children of all ages (from the youngest ones of 5-6) and it removes any problems in language learning, which allows your children to acquire Polish on time and use it like their mother tongue.
---
The textbooks and materials used in classes:
The textbooks used are Polski, krok po kroku ; Hurra¡! Po polsku, followed by numerous additional materials, such as audio and video recordings, additional texts, tests and exercises.
---
In addition to Polish language courses, Akademija Oxford offers you the services of court interpreting and translating of various texts from Polish to Serbian and from Serbian to Polish – whether it is personal, business or legal documentation. Our court interpreters and translators will provide you with a translation in the shortest time possible, in hardcopy or via e-mail.