Slovak language course
Slovak language course
About the Slovak Language
Slovak is the official language of the Republic of Slovakia, and it has around 5 million speakers. Also, around a million Slovak citizens are estimated to live outside Slovakia, so Slovak is used as an official language in Serbia as well, in the territory of Vojvodina (in towns such as Novi Sad, Stara Pazova, Backi Petrovac, etc.)
Slovak language course
Course of Slovak language in Akademija Oxford Foreign Languages School is intended for the students who need the language for an employment opportunity in Slovakia, or who simply wish to learn foreign languages, etc.
Course of Slovak is based on conversation, numerous interactive methods which enable the students to acquire grammar through conversation.
Slovak language course can be group or individual, online or intensive.
---
---
Slovak language courses Price-List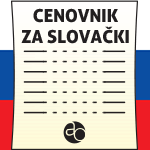 You can find a comprehensive price-list for all the courses of Slovak available on our website. Prices may vary depending on the city.
---
General Group Slovak language course

Course of Slovak language is a course for those with a desire to learn this unusual language for our region. The students can acquire a solid basic knowledge, and continue improving their skills later on. Slovak is one if the West Slavic languages used by over five million people mainly in Slovakia, but also in Serbia, Hungary, and Czech Republic. Includes 3 to 12 students and expands for 5 months.
---
Individual Slovak language course

Individual course of Slovak is intended for the students who can only acquire the levels of a language they need individually, which is of paramount importance to them if they need it to continue their business of professional development. In an individual course the course dynamics and duration depend on the individual student's need, progress and demands.
---
Online Slovak language course

Online course of Slovak is intended for the students who cannot attend the regular classes. They can schedule their own timetable and decide on the course dynamics. This type of course represents the contemporary advancement of modern age. This learning method is becoming more popular in the world.
---
Intensive Slovak language course

This is a course intended for individuals or smaller groups who wish to have an intensive course of Slovak – which means they can attend several classes every day. This type of course includes everyday work, both in class and at home, so as to acquire the knowledge and be confident about it, since the best results can be achieved only with hard work, on a daily basis.
---
Conversational Slovak language course

Conversational course of Slovak is necessary for anyone proficient in grammar and vocabulary of Slovak, but haven't used it in a long time, or require a little more practice to start speaking and put their knowledge to use. Our conversational course enables you to acquire the terminology you need and practice it through conversation with a teacher who is an expert in your field as well, whether it is ecology, biology, chemistry, electrical engineering, medicine, management, marketing, business communication, or any other field.
---
Business Slovak language course

Business course of Slovak was developed so as to enable you to acquire the terminology for your area of expertise throughout group or individual. Whether it is medicine, administration, management, business communication, or any other field we haven't listed, we can help you acquire the knowledge you need. Though the language is specific, and not as widespread, sometimes it is what you need to continue moving forward in the desired direction.
---
Specialized Slovak language course

Specialized course of Slovak, intended to be easily adapted to each individual student, and it is certainly one of the language learning courses of the highest quality. Special course of Slovak is intended to be easily adapted to each individual student, and it is most certainly one of the highest-quality methods to acquire the curriculum that you need and want.
---
Slovak language course for Children

Course of Slovak for Children is necessary for each young language learner, whose future holds further schooling in a country of the Slovak speaking area, to enable them to remove any language barrier. This type of course, as it is adapted for children, is intended for children of any age, form the youngest ones, who have no problem acquiring a new language, and who, therefore, have the opportunity to acquire Slovak on time, and use it like their mother tongue.
---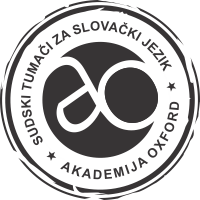 In addition to Slovak language courses, Akademija Oxford offers you the services of court interpreting and translating from Slovak to Serbian and from Serbian into Slovak for any type of personal, business or legal documents you might have. Our court interpreters and translators will provide you with the translations as soon as possible, via mail or electronic mail.