Ukrainian language course
Ukrainian language course
About the Ukrainian Language
Ukrainian is a Slavic language, part of the East Slavic group. It is the third largest Slavic language, following Russian and Polish. Ukrainian is the official language of Ukraine, where it has 35 million native speakers. The writing system of Ukrainian includes Cyrillic script, not so different from the Russian version. Ukrainian language originates from the Old East Slavic language of Kievan Rus' (10th to 13th century).
Ukrainian language course
Course of Ukrainian in Akademija Oxford Foreign Languages School is intended for those who plan to live and work, or study in Ukrainian speaking area, as well as for those who simply wish to learn new languages.
The course is based on conversation, numerous interactive methods which enable the students to acquire grammar through conversation.
Course of Ukrainian can be group or individual, online or intensive.
---
Ukrainian language courses Price-List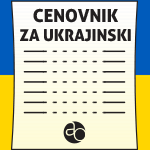 A complete price-list for Ukrainian language courses is available on our website. The prices depend on location.
---
General Ukrainian language course

General course of Ukrainian includes groups of 3 to 12 students and it can expand up to five months. Generally, the course expands for four months, including two classes twice a week, which is the overall of 64 classes until the completion of one level.
---
Individual Ukrainian language course

The course is designed for individual students. The course dynamics and duration is adapted to the student's needs, progress and demands. Individual course of Ukrainian is easily adapted to your free time, and one level requires that you attend twenty five double classes in order to acquire the curriculum.
---
Online Ukrainian language course

This is a course adapted to those who cannot adapt to the timetable of regular classes. They have the possibility of scheduling classes as it is acceptable for them, and to decide on the course dynamics. This method of learning is becoming the most acceptable worldwide, as well as here in Serbia, since it saves time and space.
---
Intensive Ukrainian language course
This is a course for those who need an intensive course of Ukrainian, which means they can have several classes every day. Intensive course of Ukrainian is a special offer, since it offers wide range of possibilities and it can be initiated right away.
---
Conversational Ukrainian language course

Conversational course of Ukrainian is realized as individual in the majority of cases, so as to maintain the topic of the classes of your interest. You can attend the classes as often as you need to feel confident in the knowledge you gain. Of course, the classes can be organized as group, but it requires a group of students interested in the same area or topic, which will be the main focus of the lessons, so that everyone can participate without any hindrance.
---
Business Ukrainian language course

Business course of Ukrainian is designed for those of our students who simply need to improve their language skills and knowledge for a certain field. The classes can be organized according to your needs, so we invite you now to apply and become one of our satisfied students.
---
Specialized Ukrainian language course

Special course of Ukrainian is created for those who need to learn Ukrainian. You are only required to have a strong will to learn and improve your skills, and to be aware of your goal.
---
Ukrainian language course for Children

Course of Ukrainian for children is necessary for those whose parents plan to continue their business or career in the Ukrainian speaking area.
---
In addition to all the standard varieties of the Ukrainian language courses available in Akademija Oxford Foreign Languages School, we offer you a chance to create a course that suits you perfectly, according to your own needs, affinities, free time, goals, etc. Coordinators and teachers of Akademija Oxford are at your disposal to help you design a course of your own, that will completely satisfy your needs
---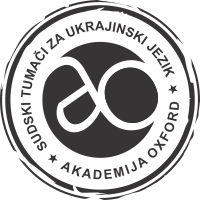 Apart from the Ukrainian language courses, Akademija Oxford offers you the services of court interpreting and translating from Serbian into Ukrainian, and from Ukrainian into Serbian. You can come to us with any documents – personal, business or legal – and our court interpreters and translators will provide you with a desired translation as soon as possible, either in hardcopy or via electronic mail.