Albanian language courses
Albanian language courses
About Albanian
The Albanian language (Alb. Gjuha Shqipe) is a unique branch of the Indo European language family. Throughout the history, Albanian has acquired words from many foreign languages, such as Greek, Ancient Greek, Latin, some of the Slavic languages, etc.
It is estimated to have around 6 million speakers, out of which 3 million in Albania, and the rest in Serbian Autonomous Province of Kosovo and Metohija, in Macedonia, Montenegro, Northeastern Greece, South Italy, and in the Albanian Diaspora.
---
Courses of Albanian
Courses of Albanian are organized for our students whose desire is to learn the language, either as a hobby, or for some specific purposes, such as living or working in the Albanian speaking area.
This course is based on conversation skills – numerous interactive methods enable students to acquire grammar more easily through conversation.
The basic courses of Albanian we offer can be group or individual, online or intensive.
---
Albanian language courses Fees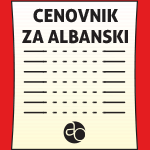 The complete price-list for the courses of Albanian is available here. The course fees depend on the city.
---
General Albanian Language Group Course

Albanian language course in Akademija Oxford Foreign Languages School is a special offer for anyone with a desire to thoroughly learn the language, steadily acquiring every level from the beginning. Albanian is an Indo European language with two dialects, out of which Foske is the official. Albanian words can also be divided into two groups – the native ones, and the ones borrowed from other languages, such as Latin, Ancient Greek, Celtic, Italian, Armenian, etc. General group course of Albanian is intended for 3 to 12 students, and expands for 5 months.
---
Individual Albanian Language Course

Individual course is a course intended for one single student. The course dynamics and duration are set according to the student's abilities, progress and demands. This is a special type of course, where the only student is you, which enables your teacher to dedicate to you only, to answer all your questions and focus on your progress.
---
Online Albanian Language Course

Online course of Albanian is intended for the students who are not able to attend classes regularly or adjust to the fixed timetable. They can have the classes as often as they can, as well as to decide the course rhythm. This modern method of language learning was brought to us by the modern age in general. It is slowly taking its place in Serbia as well, making this type of learning the most acceptable one.
---
Intensive Albanian Language Course

Intensive course is a course where individual students or groups who can have several classes every day, depending on their own needs. Whether your motivation is travelling, further education or employment opportunity in the Albanian speaking area, we guarantee you this is the right course for you. As far as the group intensive course of Albanian is concerned, it expands for two months per level, i.e. 64 classes.
---
Business Albanian Language Course

Business course of Albanian in Akademija Oxford is intended for those who need to improve their knowledge of terminology necessary for their fields of work. Business course of Albanian includes many different fields, such as: marketing, financing, administration, commerce, diplomacy, etc.
---
Conversation Albanian Language Course

Conversation course of Albanian is necessary for those who have already learned Albanian, on their own, at school, or at the faculty, but who have never used it enough. And now the problem is that those students cannot improve their language or communication skills.
---
Specialized Course of Albanian

Specialized course of Albanian is intended to fulfill your needs, which cannot be fulfilled by any of the existing courses. It is a course that can be designed especially for you, and your career, which only has one obstacle – not enough knowledge of Albanian.
---
Albanian Language Course for Children

Albanian language course for children is designed as a combination of learning, games, exercises and associations for children of all ages. It is necessary for children to learn the language from the earliest age so as to use it later on, both in the professional and in personal sphere.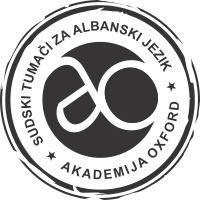 In addition to Albanian language courses, Akademija Oxford also offers you the court certified translation services from Albanian into Serbian, and form Serbian into Albanian – whether it is personal, business or legal documentation. Our court interpreters and translators will provide you with your translation as soon as possible, either in hardcopy or electronically.
See more about the Court Interpreter and Translator for Albanian >>>