Danish language course
Danish language course
About the Danish Language
Danish is one of the Germanic languages, part of the Scandinavian subgroup. It has around 6 million speakers, the majority of which are in Denmark, where Danish is the official language. Also, it is the official language of Greenland and Faroe Islands. Danish is very similar to Norwegian and Swedish, and written Danish is almost identical to Norwegian.
---
Danish language course
Course of Danish in Akademija Oxford is intended for those who wish to study languages as a hobby, as well as for those whose plan is to live and work in the Danish speaking area.
The course is based on conversational skills, numerous interactive methods which enable the students to acquire grammar through conversation.
Course of Danish can be group or individual, online or intensive.
---
Danish language courses Price-List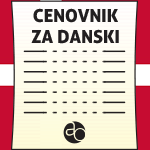 You can find a comprehensive price-list for all the courses of Danish available on our website. Prices may vary depending on the city.
---
General Group Danish language course

General course of Danish language in Akademija Oxford Foreign Languages School is a basic course designed for any student with a desire to acquire this slightly more difficult language through regular attendance, and thorough and high-quality curriculum. Includes 3 to 12 students and expands for 5 months.
---
Individual Danish language course

A course intended for an individual student. The course duration and dynamics are designed according to the student's needs, progress and demands. Individual course of Danish language is a starting point for anyone with a desire to acquire high-quality knowledge of this language, but who cannot attend regular group classes for apparent reasons.
---
Online Danish language course

Online course of Danish language is one of the education forms developed following the world standards, that is prone to constant change and improvement so as to enable you to truly use all the possibilities that it offers. Online course of Danish is intended for the students who cannot attend the regular classes. They can schedule their own timetable and decide on the course dynamics.
---
Intensive Danish language course

This is a course intended for individuals or smaller groups who wish to have an intensive course – which means they can attend several classes every day. Applying the appropriate methods we have managed to reach extraordinary results when it comes to language learning – you only need the will to work hard.
---
Conversational Danish language course

Conversational course of Danish is a special form of education intended for each student who has already acquired basic vocabulary and grammar of Danish. This is one of the Germanic languages, part of the Scandinavian group of languages, and it has over 5 million speakers. Specific as it is, it is similar to Swedish and Norwegian, which means these three nations have no problem communicating.
---
Business Danish language course

Business course of Danish was developed as a specific curriculum which enables us to help our students improve their language in any field possible, which they need for their career. We have organized a group of experienced professional teachers whose goal is to help you acquire the vocabulary and practice conversation in any field you need – medicine, administration, management, marketing, business communication, etc.
---
Specialized Danish language course

Special Course of Danish was designed by our experienced team of professional, as a challenge for anyone with a desire to progress in every sense of the word, when it comes to learning Danish. If none of our existing, regular courses seem appropriate for the students this course enables them to propose what they find acceptable when it comes to Danish language learning and to do so according to their own free time.
---
Danish language course for Children

Course of Danish for children is a necessity for any child whose parents have plans of further professional development in a country of the Danish speaking area. This is a course which will allow your children to continue their education abroad with no language barrier to slow them down. This type of course designed for children of all ages, from the youngest ones, of pre-school age, and it enables them to learn the basics of grammar and vocabulary at first.
---
The textbooks and materials used in classes:
The textbooks used are: Aktivt dansk, Pa banen, Coloquial Danish, Complete Danish; followed by numerous additional materials, such as audio and video recordings, additional texts, tests and exercises.
---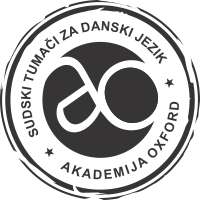 In addition to Danish language courses, Akademija Oxford offers you the services of court interpreting and translating from Danish into Serbian and from Serbian into Danish for any type of personal, business or legal documents you might have. Our court interpreters and translators will provide you with the translations as soon as possible, via mail or electronic mail.