Macedonian language course
Macedonian language course
About the Macedonian Language
Macedonian belongs to the South Slavic language family, and it is part of its East branch, alongside Bulgarian. It is the native language of Macedonia, and it is spoken by an overall of 5 million people.
Macedonian language has the Cyrillic writing system of 31 symbols, based on the Cyrillic script created by Cyril and Methodius.
---
Price list for Macedonian language courses: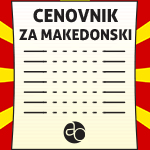 You can find a comprehensive price list for all the Macedonian language courses available on our website. Prices can vary depending on the city.
---
General Macedonian language course

General Macedonian language course is intended both for those who wish to learn the language out of a hobby and for those who plan on living or working in the Macedonian speaking area. The course is based on conversation, along with other interactive methods enabling the students to acquire grammar through conversation. Group course includes 3-12 students, and expands for 5 months.
---
Individual Macedonian language course

Individual course is a course created for one student only. The course dynamics and duration is adapted to the student's needs, abilities and demands. In order to meet every student's demands, we have perfected the team of highly qualified teachers, and therefore reached the expected result – satisfied students, and increased number of applicants – which is the primary goal of this school.
---
Online Macedonian language course

Online Macedonian language course is organized for those students who are not able to include the regular classes into their busy schedules. Therefore, they can organize the timetable according to their own free time, as well as to decide on the course dynamics. These types of courses are becoming more popular by day, as the most adaptable form of studying. The students can be all at different places and communicate with each other, and with their teacher via Skype, or any other useful platform.
---
Intensive Macedonian language course

Intensive course of Macedonian is intended for those students who need to acquire more knowledge and complete several levels in a shorter time period. Intensive course is designed for individual students or smaller groups with a desire to have accelerated Macedonian language course. This means that there can be a few classes organized on a daily basis.
---
Conversation Macedonian language course

Conversation course of Macedonian is adapted to you as our students, and it can involve any fields you might need. All the students who have a good basis when it comes to grammar, spelling and vocabulary can attend this course, master the conversation skills in any field and perfect their knowledge.
---
Business Macedonian language course

Business course is designed by our professionals in many fields, who know exactly what it takes to fulfill a certain goal. We know that our school, and this course particularly, is the right choice for you, if you already know Macedonian, but now need to cross that language barrier and upgrade your career.
---
Macedonian language course for Children

Macedonian language course for children is designed for children of different ages, who have the need to acquire this language and speak it like their mother tongue. We have a specific and interesting, but still professional plan for the classes for children. This type of curriculum is adapted for children of all ages, from the youngest ones of five or six and further on, when learning a language is the simplest.
---
Apart from these standard courses, available in Akademija Oxford language school, we can offer you the possibility of designing a course on your own, according to your needs, affinities, free time, purpose, etc. Our coordinators and teachers are here to help you design a course that will completely suit you and fulfill your demands.
---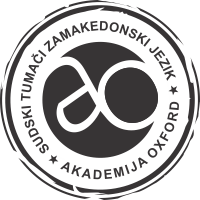 In addition to the Macedonian language courses, Akademija Oxford can offer you the services of court translating from Macedonian to Serbian and from Serbian into Macedonian, for any types of documents: personal, business or legal. Our court interpreters and translators can provide you with the translations in the shortest time possible, and have it delivered to you in hardcopy or via e-mail.