Romanian language course
Romanian language course
Romanian is one of the Romanic languages, part of the Indo-European language family. It is the official language of Romania with around 22 million speakers. Apart from Romania, there are around 3 million speakers of Romanian in Moldova, and around a million in Bulgaria, Greece, Macedonia, and Serbia.
Romanian language course
Course of Romanian in Akademija Oxford Foreign Languages School is intended for the students who wish to learn the language as a hobby, as well as for those who plan on living and working in Romania.
The course is based on conversational skills – numerous interactive methods which allow the students to learn grammar through conversation.
Course of Romanian can be group or individual, online or intensive.
---
---
Romanian language courses Price-List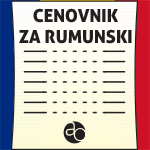 You can find a comprehensive price-list for all the courses of Romanian available on our website. Prices may vary depending on the city.
---
General Group Romanian language course

Includes 3 to 12 students and expands for 5 months.
---
Online Romanian language course

Online course of Romanian is intended for the students who cannot attend the regular classes. They can schedule their own timetable and decide on the course dynamics.
---
Intensive Romanian language course

This is a course intended for individuals or smaller groups who wish to have an intensive course – which means they can attend several classes every day.
---
Conversational Romanian language course

Conversational course of Romanian was developed in order to meet every student's demands when it comes to the field and terminology they need. It is essential for those who have learnt Romanian before, in school or at a faculty, but who haven't had the chance to use it until now, when it could be a necessity or even an obstacle for professional success.
---
Individual Romanian language course

This course is designed for any student, regardless of age, who needs to improve their knowledge and skills in this East Romanic language with over 25 million speakers. We ensure you great quality and thorough approach to studying, so that you can use the language in any situation.
---
Business Romanian language course

Business course of Romanian expands for four months when it comes to group classes and for 25 double classes if your choice is individual course. In both cases, we provide the appropriate textbooks for the lessons. On the other hand, if you simply need to upgrade your knowledge in some of the fields you need, we can organize the classes according to your own needs completely.
---
Specialized Romanian language course

Specialized course of Romanian is a special offer to learn, i.e. acquire the language, which is quite difficult to refuse. For this course you only need to have a strong will to learn, excel and reach your goal.
---
Romanian language course for Children

Course of Romanian for children is necessary and designed for children of all ages who need to acquire this language and know it like their mother tongue. Whatever the reasons for learning this particular language, we can guarantee a specific, professional and interesting approach to language teaching.
---
The textbooks and materials used in classes:
The textbooks used are: Colloquial Romanian 4th edition and Teach yourself complete Romanian; followed by numerous additional materials, such as audio and video recordings, additional texts, tests and exercises.
---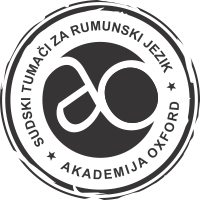 In addition to Romanian language courses, Akademija Oxford offers you the services of court interpreting and translating from Romanian into Serbian and from Serbian into Romanian for any type of personal, business or legal documents you might have. Our court interpreters and translators will provide you with the translations as soon as possible, via mail or electronic mail.