Portuguese language course
Portuguese language course
About the Portuguese Language
Portuguese is one of the Romanic languages. It has around 230 million speakers, including 210 million native speakers. Portuguese is the official language in Brazil, Portugal and several African countries, such as Angola, Mozambique, and Guinea Bissau. There are two varieties of Portuguese – Brazilian Portuguese which contains over 80% of the speakers, and Lusitania Portuguese, the official language of Portugal, African countries and East Timor.
Portuguese language course
Course of Portuguese in Akademija Oxford Foreign Languages School is intended for those students who wish to learn the languages, either out of hobby, or with an intention to live and work (or study) in the Portuguese speaking area.
Course of Portuguese is based in conversational skills and numerous interactive methods which enable the students to acquire the grammar through conversation.
The basic types of courses of Portuguese are group or individual, online and intensive.
---
---
Portuguese language courses Price-List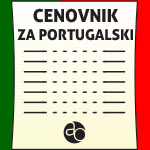 You can find a comprehensive price-list for all the courses of Portuguese available on our website. Prices may vary depending on the city.
---
General Group Portuguese language course

Course of Portuguese language in Akademija Oxford Foreign Languages School is designed for anyone with a desire to acquire this uncommon language for our region, gradually and thoroughly. Portuguese is one of the Romanic languages, used in regions of South America, Africa and Western Europe. It has over two hundred million native speakers, and if your plans involve moving to or visiting some of the Portuguese speaking areas and to get along easier, this is the right course for you. Includes 3 to 12 students and expands for 5 months.
---
Individual Portuguese language course

A course intended for an individual student. The course duration and dynamics are designed according to the student's needs, progress and demands. If you have a job opportunity abroad or a simple trip planned, and therefore need to acquire as many levels of Portuguese, according to your own free time, which you can verify with a valid diploma recognized by the Education and Upbringing Improvement Institute, in the shortest time possible, we are ready to start immediately
---
Online Portuguese language course

Online course of Portuguese is intended for the students who cannot attend the regular classes. They can schedule their own timetable and decide on the course dynamics. Online group course of Portuguese expands for four months and includes sixty four classes per level, whereas individual course requires twenty five double classes for one level. Having completed one level, our professional team has enabled you to take the online exams, if you cannot attend regularly scheduled exams.
---
Intensive Portuguese language course

This is a course intended for individuals or smaller groups who wish to have an intensive course – which means they can attend several classes every day. If you are one of the people who need to learn this Romanic language of over 200 million speakers worldwide, you will not be mistaken. This type of course allows you to use your time in the best possible way, and to receive a valid certificate, approved by the Ministry of Education.
---
Conversational Portuguese language course

Conversational course of Portuguese is necessary for those who have previously learned the language (at school or faculty), but haven't had the chance to use it yet, and who have now reached the point in their career where they need to use the language in order to continue their professional development and progress.
---
Business Portuguese language course

Business course of Portuguese is one of our many professional courses which our students need, but cannot find at any other place – we have encompassed everything in our courses and we can provide you with knowledge of the highest quality. Therefore, we are now able to fulfill any of your demands and wishes when it comes to Portuguese language learning specialized for the business world.
---
Specialized Portuguese language course
Special course of Portuguese is a unique course that only requires strong desire to learn and improve in order to reach your goal. This is an offer that no one can resist, if their aim is to acquire Portuguese. In the majority of cases, special course of Portuguese is individual, and realized as double classes, in order to obtain the tempo and the topic at your pace.
---
Portuguese language course for Children

Course of Portuguese for children is designed as a course with a special curriculum, as there are not many parents who wish for their children to learn this language. Therefore, those who are truly interested will be provided with the most professional course, created by our team of highly qualified teachers.
---
The textbooks and materials used in classes:
The textbooks used are Aprender Português, Aprendendo português do Brasil, Bem-vindo; followed by numerous additional materials, such as audio and video recordings, additional texts, tests and exercises.
---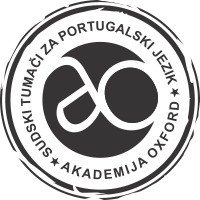 In addition to Portuguese language courses, Akademija Oxford offers you the services of court interpreting and translating from Portuguese into Serbian and from Serbian into Portuguese for any type of personal, business or legal documents you might have. Our court interpreters and translators will provide you with the translations as soon as possible, via mail or electronic mail.